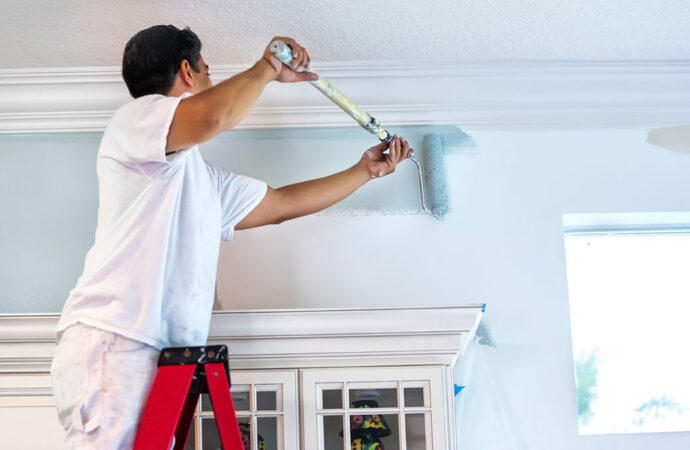 I am sure that you must have spent most of your time at home after work. Take the living room, for example. Space where you can enjoy your Netflix movie marathon and binge on that party-size bag of Cheetos. Either way, home is a private space that is closely connected to our sense of identity and living environment. But does the room gives out positive energy around you? I would strongly recommend you invest in restyling the interior of your space if being there is the last option on your list. However, it is important to change the color of the wall as the first step to renovate. A great combination of colors is definitely the core of every successful design. Assuming that you have trouble D.I.Y the renovation on your own, League City Professional Painting Contractors will be your friend in need. 
League City Professional Painting Contractors offers interior painting services including workspace, bedrooms, foyers, nurseries, basements, and more. We emphasize providing you with the best service and full support in hopes of making your dream space come true. Have an idea already but could not point out the details? No problem! We prepare a detailed quote with a draft of sketches and every inch of detail to guide you to interpret your ideas into a blueprint. However, Thanksgiving is just around the corner and you are having your colleagues over for dinner. No worries, we got you covered. 
Our team consists of crews who are highly experienced, dedicated to coordinating and communicating with other Contractors as well as managing the project within the agreed timeline. Our outstanding crews will also consult you in deciding the best combination of colors as well as products for smooth coating. 
For more inquiries, feel free to contact us via the customer service hotline or simply drop by our store near you. We guarantee that your experience of working with us will be a pleasant one and worth every penny that you have invested. You are only one decision away from having a fresh new look for your personal space!
Here is a list of our services you can get at League City TX Professional Painting Contractors:
We service all of Texas. Below is a list of cities most of our services are at on a daily basis: